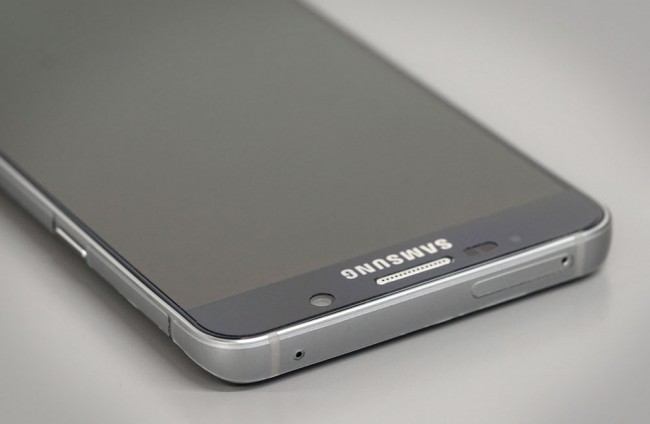 How to Fix Samsung Galaxy Blank Screen of Death
Bijay Pokharel, April 6, 2018
1
7 min

read
Some have reported that the Samsung Galaxy series will have a black screen after you have turned on the smartphone.The problem is that the Galaxy buttons light up like normal, but the screen remains black and nothing is showing up.The Galaxy screen won't turn on at random times for different people,but the common problem is that the screen fails to wake up.There are several factors involved as to why this is happening mostly relating to the software of the device.However,is it possible to fix Samsung Galaxy S5/S4/Note 4/Note 5 black screen of death?Please keep reading the following article and you will find a simple way to fix black screen Samsung phone and recover all data from it
Several Different Situations of Samsung Galaxy Black Screen Problem
-Black Screen After Software Update
-Black Screen Problem When Running On Official Firmware
-Black Screen Unresponsive
-Black Screen After Drop
-Random Black Screen of Death Issue
-Black Screen of Death Issue
Fix Samsung Galaxy with Black Screen and Recover Data
The simplest way to get Samsung Galaxy out of stuck at black screen and recover data is using Broken Android Data Extraction & Fix Tool.This program empowers you download recovery package for your Samsung devices and fix Samsung Galaxy with black screen of death problem,only few steps to repair your black/blank screen Samsung phone to normal quickly and safely.Besides,this application allows to recover contacts, text messages,call logs, WhatsApp,photos,videos,music and more from Samsung phone,including Galaxy S4/S5/S6/S7/S8,Galaxy Note 3/4/5,Samsung Galaxy J2/J3/J5/J7,etc,.Even if your phone cannot be turned on or the touch screen is unusable completely,the program can make the data on the phone accessible and recoverable.There are several different ways to try to solve the Galaxy blank screen issue, follow the best instruction below to learn how to fix the Galaxy black screen not turning on issue.
 Android Tool Kit Features:
Flexible Recovery: You can update the data at any time you get a new device by going to your account.
Supports: The App supports all the versions of the Smartphone by allowing you to get all the support in every versions of the Samsung Galaxy Smartphone.
Recoverable Files: You can actually recover from all items such as Contacts, Call History, Whatsapp contacts and images as well as Messaging and also all the important files and folders you have.
How to Perform Samsung Black/Blank Screen Data Recovery
The first step that you need to come across and it can be done by launching the Android tool kit with your computer and the going for the scan option. Once it has completed scan, you fill find a button named with "Broken Android Data Extraction" which you need to click.
Step 1.Connect Samsung Galaxy to Computer
Then connect your Samsung with the computer with an USB.After that,click "Data Extraction(Damaged Device)" option and go to next step.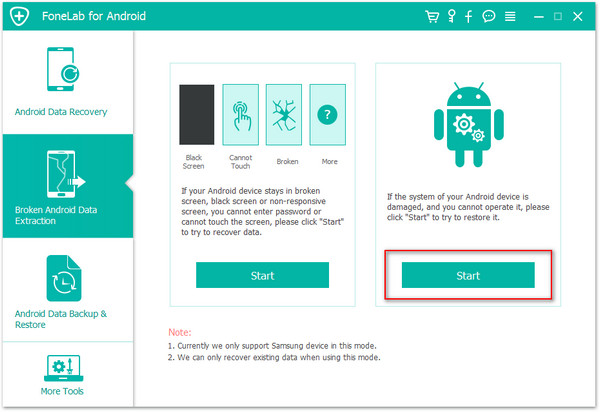 Step 2.Choose the File Types to Recover
Next up once it lands to another page, you now need to select the files and the items you actually want to recover. The recovery option however includes contacts, text messages, photos, gallery, music, video and documents among others from broken Samsung phones.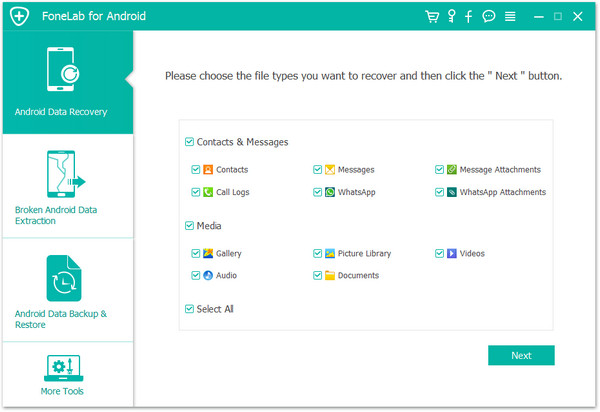 Step 3.Select the Stuck Type of your Samsung
You should select the stuck situation that match your device.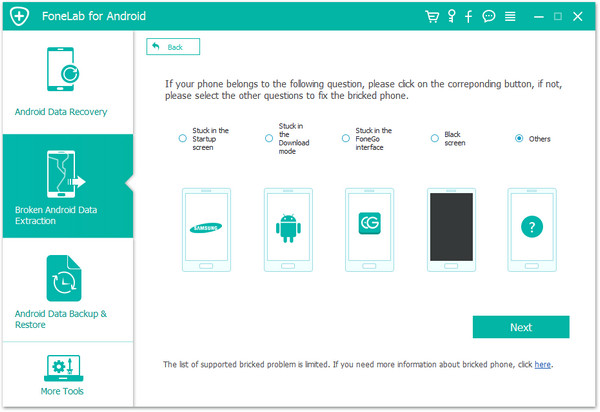 Here you should select "Black Screen" and then click on "Next".
Step 4.Choose the Phone Name and Model
You need to understand the fact that the data extractiong software and program is different for all android devices. So you have to select the proper version of the android as well as the exact model you are using.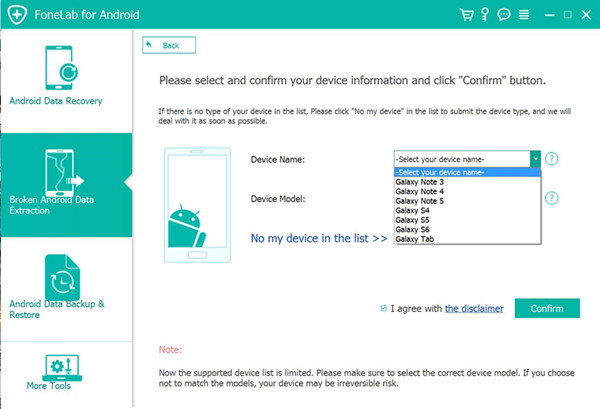 Step 5.Get Samsung Galaxy into Download Mode
After you connect your Samsung which is stuck on black screen to computer,Android tool kit will pop up the window as below.Choose one from the displayed situations on the popup window to continue.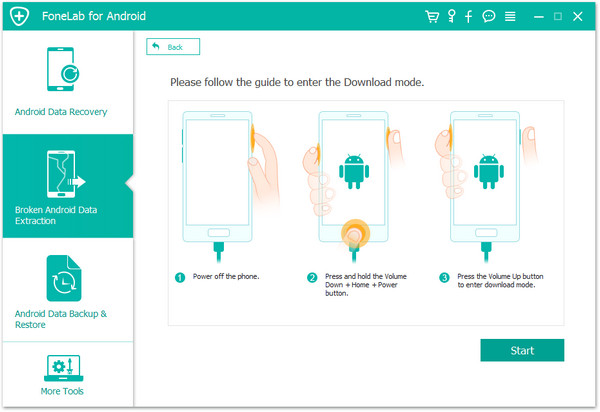 This is the step of entering the download mode of the phone and start on with the screen recovery.
Here you need to follow up three individual steps which include:
1)Hold the power key to Power off the Phone
2)You next have to press the Volume Down, Key, The Power key as well as the Home Key at the same time
3)Next up leave all the keys and press the Volume Up key to enter the download mode of the phone
Step 6.Detect Samsung Galaxy and Begin Download Recovery Package
When the phone enters download mode successfully,Android tool kit will detect it and display the device model,Android version etc,.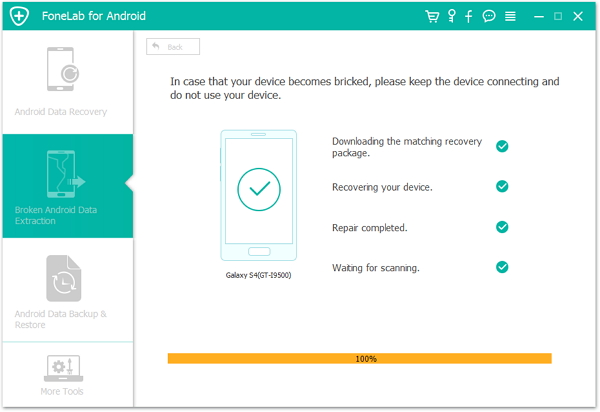 Step 7.Fix Black Screen Samsung Galaxy Turn to Normal and Get Data Back
Android tool kit will download the recovery package to help you fix the phone automatically and return it to normal state.After the download is completed, your phone will return to normal as usual.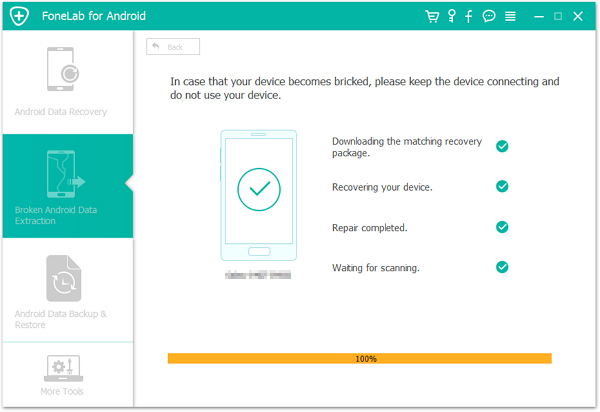 Step 8.Begin Recover Data from Samsung Galaxy 
After installing the recovery package on your broken phone complete,the program will helps you scan and recover all files from Samsung phone with black screen,click "Recover" button to extract and save all the Samsung data on computer.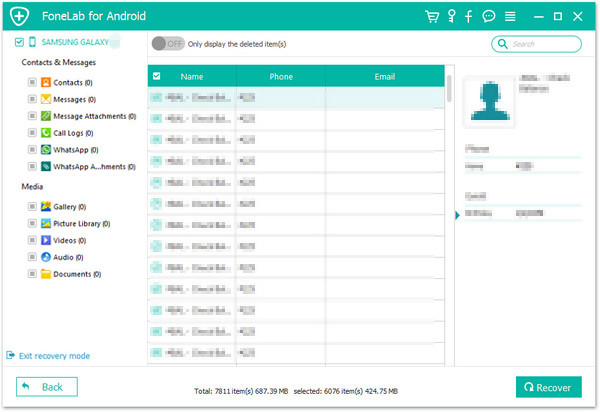 Free download the Android recovery to fix your Samsung with black screen and get data back from it:
 You can not only fix Samsung Galaxy S5/S4/S3/Note 4/Note 3/Note 2 with blank or black screen problem,but also recover all your precious data immediately with Android tool kit.The Android Tool kit enables to repair various operating system issues of Samsung Galaxy phone,insist of phone stuck on black screen,phone stuck in download mode,phone stuck on start screen,a bricked phone,etc.Why not download the tool and protect your Samsung phone from the phone losing data and system repairing?
How to Fix Samsung Galaxy Blank Screen Issue
You can help fixing the black Screen Problem on Samsung Galaxy by following the simple steps:
Step 1.Power off your Samsung Galaxy phone to get started for booting. You can do it by holding the Power Key with the Volume down Key together.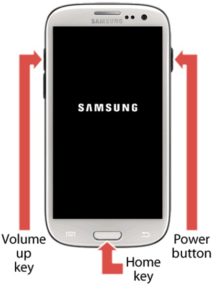 Step 2.Wait till it vibrates and let it go to get the phone booted once again.Take the help of broken Android data recovery to get started.
Step 3.Select for the "wipe cache partition" with the volume keys to get the Reboot done of the phone and get the Black Screen removed.
Step 4.If you think that the application is creating such a problem,it is time to reboot your phone. If you cannot do it by yourself,it is better to take the help of any professional to do it for you.
If your Samsung phone did not start itself,it is time to take out your battery and press the power on button to try out a restart.If it turns on,the black screen may be solved but if it does not,then there is a problem with either with the battery or the charger.
How to Deal with Samsung Galaxy Blank Screen Issue
Way 1:Boot Samsung Device to Recovery Mode
The first way you should try is to get your Samsung Galaxy into Recovery Mode:
Step 1. Power off your Samsung device.Then, press and hold the Volume Up, Home and Power button at the same time.
Step 2. When the phone vibrates, let go of the Power button while still holding the other two buttons till the Samsung screen comes.
Step 3. In the main Recovery Mode menu, select "wipe cache partition" (You can press the Volume Down and Power button to select it.)
Step 4. After the cache partition is cleared, your Samsung Galaxy will reboot automatically.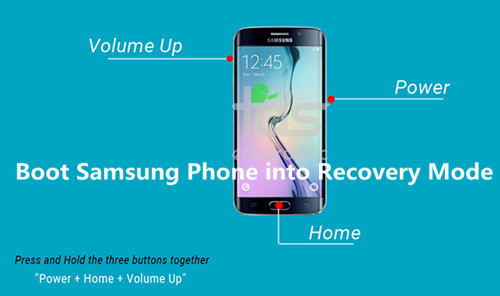 Way 2: Hard Reset Samsung Phone to Reboot System
Whne your phone stuck in black or blank screen of death.If the way 1 doesn't work, you can try to hard reset your Samsung Galaxy phone to factory settings,this way enables you unlock google account, clear pattern lock on Android Samsung device,but it will cause data lost.However,please backup your phone before doing the hard factory reset on it.Then, follow the steps below to reset your phone (Take Samsung Galaxy S6/S6 Edge as example):
Step 1. Turn off the Samsung Galaxy S6. If your device won't turn off, remove the battery for a second and put it back.
Step 2. Now press and hold the Volume up button, the Home button, and the Power button together until you see the Android on screen.
Step 3. Use Volume down button to highlight the "wipe data/factory reset" option and then press the Power button to select it. Then, select "Yes – delete all user data" to confirm it.
Step 4. Wait until you see the "reboot system now" option and then use the Power button to select it.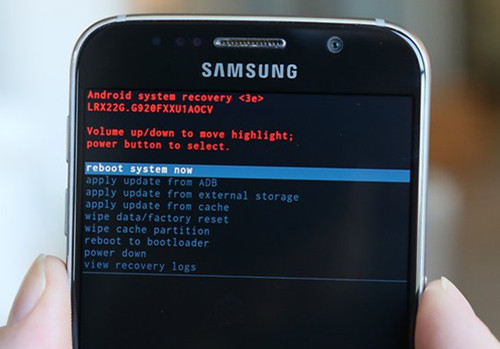 Step 5. When the phone restarts, everything will be wiped and will be ready to set up again.
Bijay Pokharel
Bijay Pokharel is the creator and owner of Abijita.com. He is a freelance technology writer focusing on all things pertaining to Cyber Security. The topics he writes about include malware, vulnerabilities, exploits, internet defense, women's safety and privacy, as well as research and innovation in information security. He is a tech enthusiast, keen learner, rational and cool person in his professional activities and challenges.
Related posts