Facebook Likes Don't Matter Anymore
Bijay Pokharel, September 14, 2017
1
11 min

read
Now this may seem like an odd question, of course we all want Likes on our Facebook Pages and posts. Like play a important role to the post and the contents. But given changes over time to the way the platform works and how the News Feed algorithm functions, does the number of Page Likes you have matter as much as it used to? Does having more Page likes necessarily mean you're a better business, or the best option relative to a users' search?
Okay, that title may sound a little extreme, but there is some truth to it. Whilst Facebook likes aren't completely worthless, their actual value is diminishing at a rate of knots.
Let me explain…
Over the past two years, Facebook has been squeezing the organic reach of content for businesses using the platform. In October 2013, the average post from a Facebook page would organically reach around 11-13% of that page's followers. Fast forward to today, and you're lucky to hit 3%. The graph below tells its own story:
Image source: http://www.convinceandconvert.com/social-media-tools/this-chart-explains-the-reachpocalypse-and-why-facebook-is-laughing-all-the-way-to-the-bank/
I've read loads of posts over the past few months that talk about how this is wrong and that Facebook should be rewarding good content from brands instead of them having to pay for it. There have even been a number of brands and individuals that suggest that you should leave Facebook altogether, including this recent breakup letter from Eat 24. And Eat 24 aren't the only ones; Copy blogger also deleted their Facebook page last month for similar reasons, waving goodbye to over 38,000 fans.
With that said, it would appear that I will be eating my words because Eat24, after saying goodbye to over 70,000 Facebook fans, have reported a 75% increase in app downloads on the week of deleting the page, and they've also doubled their email marketing open rates. The Eat24 team have actually said that deleting their Facebook page was the best marketing move they made all year; even CNN covered the breakup!
Whilst I certainly won't be recommending that everyone deletes their Facebook page, I would suggest that Facebook may not be the channel for you if you think you can make it work without spending a penny.
Facebook is not a free marketing channel.
If you really want to get anywhere on Facebook, you need to spend money. Let's use my food blog as an example (make sure you read my social media strategy case study, if you haven't already). I have over 5,000 fans on Facebook, yet each post that I make (without advertising) will reach around only 150 people. That's not a lot at all. In fact, I would reach a ton more people through Twitter or Pinterest, and they have much smaller followers.
That to one side, by spending a small sum of around £20, I can reach around 3,000 of these fans. The added engagement that comes from this will often boost the organic reach as well at hit around 500 people who don't already follow my page.
£20 isn't a lot of money in the grand scheme of things, and I definitely get a good return on investment from it. Traffic from Facebook tends to get the highest level of engagement across my website as well.
Shifting Your Focus
For a long time, I've been dedicating some of my Facebook ad budget to acquiring new likes for my Facebook pages. This used to be a great investment because once I had people on board, engagement levels on my Facebook page(s) would increase, traffic from Facebook would follow and, ultimately, conversions would increase.
Over the past six months in particular, I've been reviewing this approach.
I've found that once I bring in a new fan to my Facebook page, it's becoming more and more difficult to reach them. Whilst they engage more than non-fans, I have to spend twice as much just to get my content in front of them in the first place. It begs the question: is the cost of acquiring a fan and getting them to engage less than the cost of getting a non-fan to engage? A year ago, the answer to this question was yes. In most cases now, that answer is no.
Let me explain…
If I pay £0.44 per new page like and roughly £0.03 per post engagement per fan, then that brings my total cost per engagement to £0.47. These are real stats from a current campaign I'm running. On the other hand, I'm currently running a simultaneous campaign to non-fans that is costing me £0.08 per engagement. That means I get just under six times more engagements from non-fans that I do for the same price of acquiring one new fan plus an engagement.
You're probably wondering why this is. Well, it's simple.
You don't need to acquire new fans on your Facebook page to know that they're a follower of your brand. Something as simple as setting up ads to appear to anyone who has visited your website will give you a good idea that they will have heard of you and possibly have a positive sentiment towards your brand. In fact, this is exactly who I'm targeting my non-fan ads at above.
When you think about it, you can actually deliver more appropriate and relevant content to those people you have within custom Facebook audiences than you can to your actual Facebook fans. Yes, you can segment your Facebook post and send out to people that meet specific criteria, but you're constrained to targeting who Facebook will allow you to.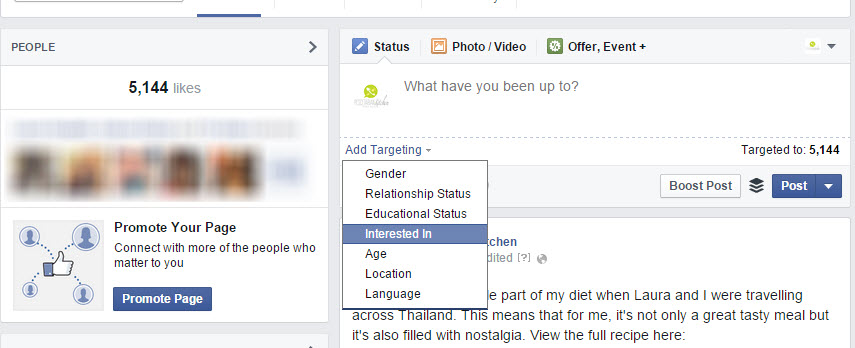 On the other hand, when you're tracking website behaviour, you're able to split up your audience based on the specific pages they've viewed and events they've triggered in order to display tailored Facebook advertisements. For me, this is a much more effective and powerful way to drive through traffic from Facebook.
The Value of a Like
The value of a like is sinking faster than Twitter's share price. Facebook has already mentioned that they will be decreasing the number of promotional content that is appearing in the newsfeed, which will have even more of an impact on reach.
The main takeaway here is that it's becoming much more difficult (and expensive) to acquire new fans, and it's becoming much more difficult (and expensive) to reach those fans.
The Like quickly became the crucial currency of The Social Network – people became addicted to Likes as a form of social proof, a sign of your popularity and importance. And when brands started to flood the network in response to its growing user base, Likes also became a key element for business. Rally, you're no one if no one likes you, and that's even more relevant from a branding context.
And while the addition was relatively simple and straight-forward, the Like had also changed the game, without even Facebook understanding how important and valuable it would become as a data source. Through Likes, Facebook was now building a history of everything every user was interested in, your every Like was being added to your profile and measured, and eventually, compared against other users to find patterns and correlations, links between your interests that could reveal detailed insights into who you are and what you're interested in.
Through Likes, Facebook had found a way to build the most valuable data resource ever created. And it was functional, it wasn't information sourced from surveys or feedback reports. Users were happily providing it to them, and that data was flowing in at a rate of trillions of new data points every day.
Too Likeable?
As Facebook has grown, so too has the amount of things each person has Liked. Originally, Facebook Pages were encouraged to get more Likes, as Likes were an indicator that that user wanted to see more of your updates. It actually used to be an ad objective, but they've since removed it.
Facebook's been forced to de-emphasize the Like because a Like alone no longer influences Facebook reach in the same way – getting more people to Like your Page might inflate your vanity stats, sure, but it doesn't necessarily mean that more people are going to see more of your content.
According to Facebook, the average user could, theoretically, be shown to 1,500 updates every day based on their registered Likes and connections, way more information than a normal person is able to consume in a 24 hour period.
Like Relevance
So to clarify, there are two separate considerations as to the value of Likes. For personal use, Likes definitely remain relevant, even though they're not as valuable as they once were. Every time you Like something, it adds a signal to your profile that will then put it in consideration for what you'll see more of in future, so each Like is valuable, and repeated Likes of content from the same person or Page will definitely help define your Facebook feed.
For business use, post Likes hold value in much the same way – they define reach and help indicate audience response as a measure Facebook can take into account when assessing Page performance. But Page Likes, as opposed to posts, are a lot less valuable than they once were. As noted, having a lot of Page Likes doesn't necessarily mean your messaging is getting through, it's the engagement at post level that really defines your reach and response. In this respect, you're really better off checking the average Likes a Page is getting on each of their updates rather than relying on their Page likes as an indicator of their quality, if that's the measure you're trying to ascertain.
Yet at the same time, Page likes do function as an important means of social proof.
This is particularly relevant when you consider that more and more people are using Facebook as a reference point when researching businesses – a recent study showed that Facebook reviews are growing at 4x the rate of other review platforms, indicating that more and more people are looking for such info on the site. Even in your own, day-to-day use, no doubt you've seen this also – if you were trying to decide between two restaurants for lunch and one had 100 Page Likes and one had 50, which would you go with?
And there's also the relativity factor – maybe you're only reaching 1% of your Page fans with each post, but 1% of 1,000 is a significantly more than 1% of 10.
Page likes clearly do hold value in this respect, but they're not the be all, end all. Savvy consumers are learning to adjust and review a business' Facebook presence on more than just total Page Likes alone because:
They can be gamed (you can buy Likes)
It's not necessarily indicative, due to the above noted reasons
Really, in order to maximize your success on Facebook, Page Likes should only be one consideration – generating engagement with your posts is the best way to build interest and engagement, and that, in turn, will likely lead to more Page Likes anyway. But there may come a time where Page Likes are no longer considered a relevant factor.
In this context, "Followers" is probably a much more relevant and valuable metric.
A follower count that drops every time someone unfollows your Page is far more indicative of your Page's actual relevance and value to your audience. Really, that's what I'd rather see than the 'People Talking About This' metric accessible on any Page.
Overall, Page Likes still carry value as an indicative measure, but the real value, for the everyday user, is in understanding why they should follow your Page. And that then comes down to a question of use for Facebook – are Page Likes being used as an on-platform indicator of who to follow, or are they being used as a more general measure of how well liked and trusted a business is. If the focus is on improving on platform performance, then the former is more relevant, but if Facebook is looking to be more of a hub of local business info, a resource for users in this regard, then the latter is more critical – so long as people can trust that those Page Like numbers are actually indicative of a businesses' performance, not just their popularity (or on how much money they could spend on buying Likes).
And if they can't, maybe we'd be better off with a "Follow" button on each Page instead of a Like – save that for posts only, maybe. Because of platforms shifts and developments, the equation of Page Likes has inevitably changed. And because of this, the actual meaning of that number is no longer as clear.
Bijay Pokharel
Bijay Pokharel is the creator and owner of Abijita.com. He is a freelance technology writer focusing on all things pertaining to Cyber Security. The topics he writes about include malware, vulnerabilities, exploits, internet defense, women's safety and privacy, as well as research and innovation in information security. He is a tech enthusiast, keen learner, rational and cool person in his professional activities and challenges.
Related posts