This might sound weird to many of you but to be honest this is the real truth. If you have some sort of IT knowledge then you may have the idea of 'implementing the cookies policies'. Although many websites use cookies to give an users the best experience in their websites. What if the two major internet companies i.e. Facebook & Google are implementing the tracking cookies so that they got every information about you. What you browse, what you upload & download, what you share and literally everything. Even when you sleep and when you wake up.
And i would like to debunk some real truth about this issue and YES! Both major internet companies are implementing the tracking cookies. Recently, Facebook CEO Mark Zuckerberg has acknowledged the fact that he is using the tracking cookies when he was  answering the questions asked by the Senate about 'Cambridge Analytica Data Leaked'. Yes 87 Millions users globally risks their information. This is why we say every time, there is actually nothing safe on the internet, no matter what precautionary measures you implement to be safe & secure on the internet world. The providers will get every details about you and that also LEGALLY. The Above pic shows the cookies that Facebook use.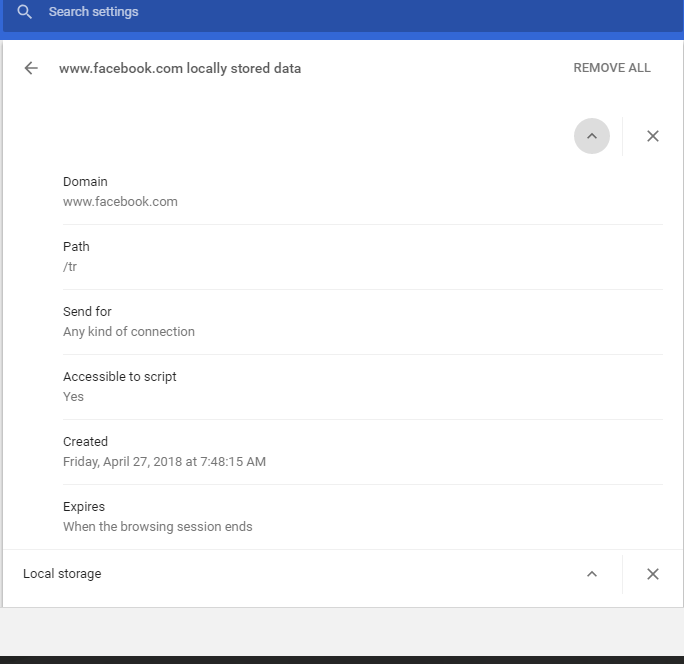 It says that the cookies will expires when the browser sessions ends. This is fake. Facebook track your every moves even after you sign out from your Facebook account. Don't believe me? see the above video where Facebook CEO accept this fact.
Now lets talk about the google how they are gathering your information ? If you are using google chrome then you can see some cookies where the expiration date about 5 years or so. Their cookies never expired. How google is tracking your moves? Suppose you typed "New Dell Laptop Price" in the search bar then you will notice the ads related with Laptops. I know this is not the big deal but what if your are trying to google your personal problems then you will see the advertise regarding that issue. Suppose you are infected with some diseases and you place your problems into the google search then you can see the advertisements of hospital and may be you see some medical information on the ads. This might sound helpful to you BUT do you know what google know about you now? Suppose your name is David. Now Google knows that there is a patient called David who live in a certain location and he has some personal health problem, aged XX, email id : example@google.com and also your full browsing history, downloads & uploads, the content you share and almost everything and even what is happening to your body. All that information source is GOOGLE.  This is how you share your information with google. Google is a great source of information but what if you are sharing your problems at the meantime of getting solution.
This is true we cannot live without Google. Google is the source of everything. But my concern is why are we risking our privacy online? Why are we trying to be a doctor ? why we are sharing our confidential information ? Why are we living a social lie? 
Now the question is, should you be worried about all these? The major internet companies are investing billions of dollar to ensure the maximum possible security  &  privacy to the users. But they can get your  information just by typing your username. And they didn't asked you about your info. However, you gave. If you are using the internet for more than 10 years then be sure you have shared  your every details and google knows about you more that you knows about yourself.
Now lets talk how social network are exploiting your privacy. Most social networks insist you to share you education, career, your work place, birthday, your relationship status, your political interest and so on. And you share everything to make your profile look cool isn't it? But you share your whole information to a complete stranger. And they are so called  the social network providers. Here is an example of LinkedIn.

Beware! LinkedIn is not making your profile cool. However, they want every information about you by implement something called Profile Strength. The higher the information the higher the profile strength. And some idiots are sharing everything for the profile strength. My question is why? Is it necessary? There is also the life outside of social networks.So this makes no sense.
So, at the bottom line this is true we cannot live without social networks and google search. But why should we provide every details about us? There is also a life outside of social networks. And there are hospitals,  doctors where we can share our personal information with full trust and there won't be any privacy leakage. So lets start protecting our privacy, no one is gonna help us. We should have control about the information that we share online. You may have idea that China, North-Korea, Iran etc are those countries where social networks are completely banned. This is because of privacy concern. If you are reading this till end then please share this to your friends and family to be more secure and maintain the privacy online. 1000's of confidential data leaked every day. So lets be serious about this. If you have any question then feel free to write down in the comment box.
Bijay Pokharel
Bijay Pokharel is the creator and owner of Abijita.com. He is a freelance technology writer focusing on all things pertaining to Cyber Security. The topics he writes about include malware, vulnerabilities, exploits, internet defense, women's safety and privacy, as well as research and innovation in information security. He is a tech enthusiast, keen learner, rational and cool person in his professional activities and challenges.
Related posts