6 Apps to Improve Your Android Phone's Performance
Bijay Pokharel, May 6, 2018
0
5 min

read
You might be pretty impressed with the performance of your Android phone. It runs a lot of apps and games. But your phone might become unstable or run down its battery faster than it needs to if you don't maintain it. Problems on your device usually arise when you install too many apps or run more than one app at a time. This drains the battery quickly and causes apps to run slow. Other problems might come up, including low volume, low SD file-transfer rate, slower CPU processing, and slow browser speed.
Like your PC, your phone or tablet needs a regular checkup to ensure optimal speed and operation. Fortunately, there are some useful Android apps to improve your phone's performance. Some (not all) of these apps require an unlocked or "rooted" device. Some monitor your phone's computing performance and offer benchmark scores. Here's a rundown of some of the top applications that boost performance.
1. SetCPU
As the name suggests, SetCPU tweaks your rooted phone's processor to boost CPU performance. With it, you can experiment with overclocking your old phone.The most admirable aspect of this app is its capability to under clock processor settings. Lowering the clock speed of a processor has its own perks. It can save battery life, although the performance of some high-end applications will decrease. For some devices, the app also allows you to tweak the phone's voltage to preserve your battery. Set CPU lets you choose a preset profile, based on certain conditions, to change your CPU settings. Based on the profile chosen, the app may overclock or underclock your processor settings if you are browsing the web or if the CPU temp is too high.With so many options and features, this free app provides a much-needed performance boost for your device.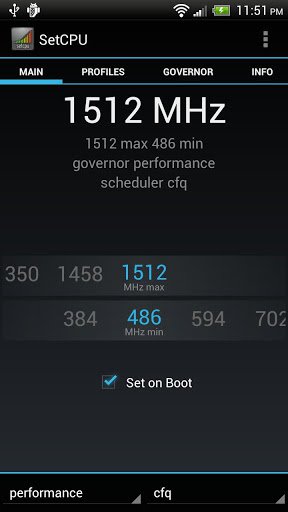 2. ROM Manager
ROM Manager, developed by Koushik Dutta, allows you to add more zing to your unlocked Android phone. Using this app, you can download and install a variety of ROMs (operating systems) that improve performance or add new features to your device. It offers a smart user interface to manage your ROMs, and adds new custom ROMs and mods periodically, allowing you to dabble with new stuff every now and then.
The best part of ROM Manager is OTA (over-the-air) updates that let you install your favorite ROMs on the fly. You can install the famed CyanongenMod to completely rejuvenate your rooted phone's setting. The ROM includes a new custom soft keyboard that's more accurate than the one that comes with the phone. The ROM also includes performance enhancement options for your device CPU.
There are plenty more features of ROM Manager. You can download it for free or buy the premium version for additional features. Offering a wide variety of custom utilities, this is a must-have app for all rooted phone users.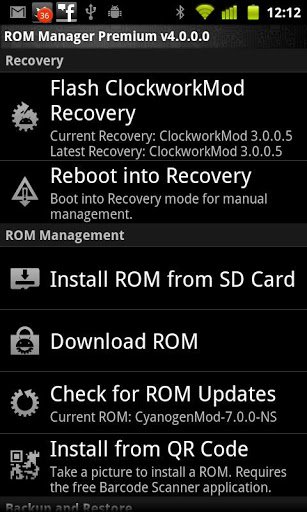 3. CPU Tuner
CPU Tuner is an Android app that improves your phone's processor performance and battery performance. Much like SetCPU, this app is a performance enhancer for an unlocked device. Besides having a set of preset profiles, the application also lets you create custom profiles that work when a certain condition is triggered.
CPU Tuner lets you tweak your phone's performance setting by lowering the clock speed. While this can slow down apps, it will allow you to run basic, important apps without any problems. This app allows users to configure settings and create their own profiles. The flexibility, along with some really cool profiles, makes this app an excellent addition to your list of performance-enhancing apps.
4. SD Speed Increase
Bored with the slow file-transfer rate of your SD card? Well, there's a solution for it, in the form of a free app. Speed Increase improves the SD card speed by allowing users to augment the default size of the SD card cache.
The app has the simplest user interface, just a slider to increase cache size. The cache size changes after every reboot, but you can avoid this this by selecting a small check box below the slider, which will bring your preferred setting back when you restart the phone.
Like the apps above, SD Speed Increase works on rooted devices only, and in addition it only seems to work on some phones. On others, the change in speed is hardly noticeable. Since it is free (ad-supported), you can try it out on your unlocked device.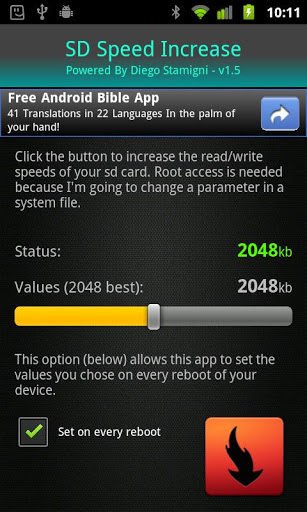 5. AnTuTu Benchmark
This app is not a performance booster, but a performance tester. With it Android OS enthusiasts can test their phone's memory performance, processor speed, 3D rendering capabilities, and memory card reading/writing speed. You can find out if your phone can play demanding games, and test 2D rendering capabilities as well as other effects. You can compare test results with other phones; the app lists popular phones, and adds new phone benchmarks regularly. The interface is slick and highly readable, with a quasi-3D meter model, and bright graphs displaying test results on a black background.
AnTuTu Benchmark is used by most amateur mobile phone reviewers and enthusiasts. If you want to delve deeper into your phone's CPU, SD card speed, and gaming performance, then you should install it on your device.
6. Android Assistant
Android Assistant is a one-stop app to improve your phone performance. It provides an assortment of tweaks, utilities, and monitoring tools to track your Android's health and boost performance. You will get to know the current CPU usage, total free memory, and battery info. Its graphical monitors are very clear and easy to read.
The app's most useful aspect is its Tools menu, which contains some of the best utilities to improve your device's performance, from a nifty cache cleaner to a startup manager. You can uninstall unwanted apps all at once via the batch uninstall option and kill unwanted operations and apps with a tap of a button, via Quick Boost. Android Application Manager is a great app for those who want a single application for boosting their device's operations. Of all its tools, I found the Quick Boost and Startup Manager most useful.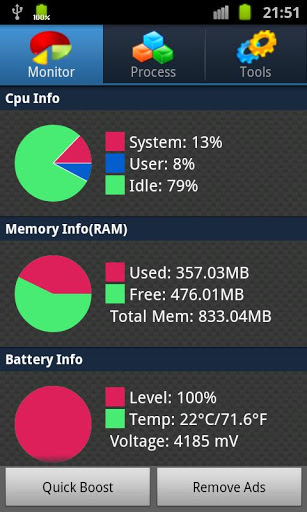 Bijay Pokharel
Bijay Pokharel is the creator and owner of Abijita.com. He is a freelance technology writer focusing on all things pertaining to Cyber Security. The topics he writes about include malware, vulnerabilities, exploits, internet defense, women's safety and privacy, as well as research and innovation in information security. He is a tech enthusiast, keen learner, rational and cool person in his professional activities and challenges.
Related posts