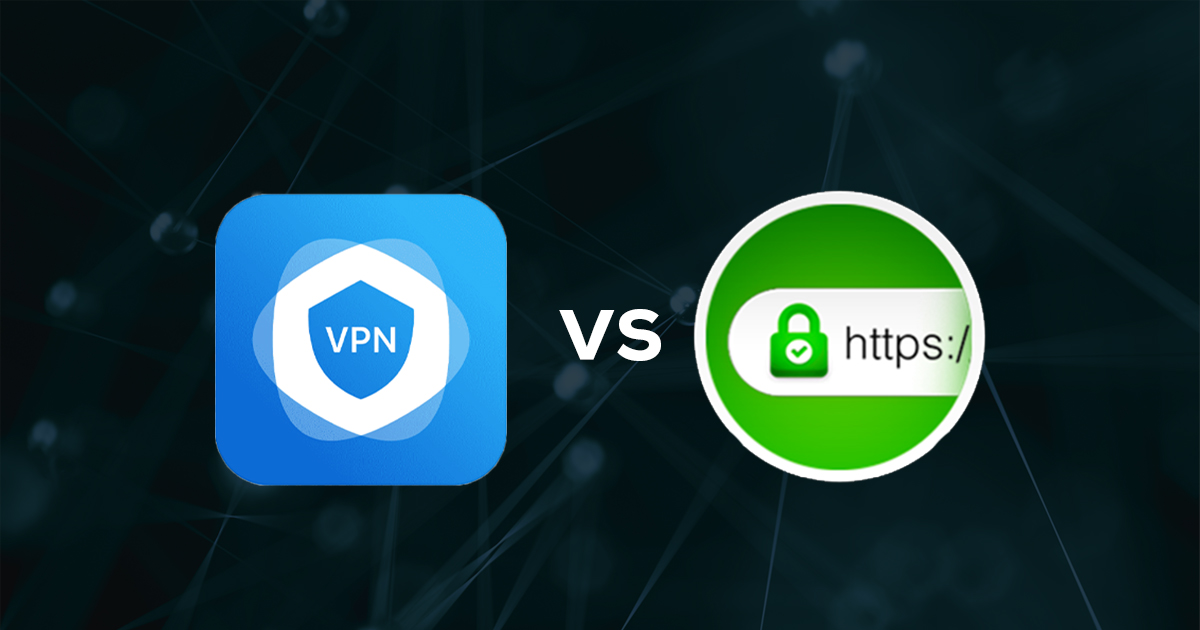 Both HTTPS and VPNs do similar things in different ways. HTTPS secures your information when you visit websites where VPN encrypt your entire internet traffic. They both have to deal with encryption. In this article, we are going to explain what are the differences & similarities between HTTPS and VPNs.
What is HTTPS?
Hypertext Transfer Protocol Secure, or HTTPS, is a connection protocol that web browsers use to communicate with websites. "Secure" is the most important part – HTTPS employs the TLS encryption protocol to secure data shared between users and websites. It also performs authentication to ensure that both parties are who they say they are and verifies that the data being sent hasn't been tampered with.
If a site uses HTTPS, your ISP or someone snooping on your connection can only see what website you visited, not what you did there. Therefore, it's very important to check whether the website you use for online shopping, for example, uses HTTPS. If it doesn't, your name, contact and credit card information could get stolen. To find out if the site you are browsing uses HTTPS, check your browser's URL bar. Most display a lock icon next to the URL if HTTPS is enabled.
What is VPN?
A virtual private network (VPN) gives you online privacy and anonymity by creating a private network from a public internet connection. VPNs mask your internet protocol (IP) address so your online actions are virtually untraceable. Most important, VPN services establish secure and encrypted connections to provide greater privacy than even a secured Wi-Fi hotspot.
VPNs essentially create a data tunnel between your local network and an exit node in another location, which could be thousands of miles away, making it seem as if you're in another place. This benefit allows online freedom, or the ability to access your favorite apps and websites while on the go.
Differences & Similarities Between HTTPS And VPN
A VPN encrypts all the communications from your device, while HTTPS only secures the connection between you and the website.
HTTPS has to be enabled on both the website you visit and your browser, whereas a VPN gives you complete control over your security.
A VPN conceals your actual identity and helps you get around regional limitations and censorship, unlike HTTPS.
HTTPS encryption is generally weaker as opposed to the powerful military-grade encryption provided by a VPN.
Neither HTTPS nor VPNs will keep your device safe from malware or scams – these are best avoided by exercising caution!
HTTPS And VPNs Work Well Together
HTTPS will encrypt information you enter into a website, but it won't disguise your location or offer any privacy protection. It will also not offer any defense against internet censorship.
A VPN will encrypt communications between your computer and the VPN servers, hide your IP address and location, and grant access to the whole web, but it won't protect you from the information you share willingly, like a credit card number typed into an unsecure browser page.
In short, HTTPS is a fantastic encryption protocol, and a VPN is a must for the privacy conscious and those who wish to view the whole internet without restrictions. It's not a case of VPN over HTTPS. The two work well together.
Hers's Why We Recommend Choose ExpressVPN
ExpressVPN, which comes highly rated by users and reviewers, works on devices including Windows, Android, iOS, Linux and routers. Based in the British Virgin Islands, it costs around $6.67 a month if you take out a 12-month plan. With a network of more than 2,000 servers in 94 countries, Express offers top notch coverage in Europe and the US. It also works pretty well in Asia, South America, the Middle East and Africa. It uses its own DNS servers and employs high end encryption tech to ensure your security and privacy.
ExpressVPN offers access to more than 3,000 servers in 160 locations across 94 countries, alongside maybe the widest platform support you'll find anywhere.
We're not just talking about native clients for Windows, Mac, Linux, plus iOS, Android and even BlackBerry. There's custom firmware for some routers, DNS content-unblocking for a host of streaming media devices and smart TVs, and surprisingly capable VPN browser extensions for anything which can run them.
All that functionality could sound intimidating to VPN newbies, but ExpressVPN does more than most to help. An excellent support website is stuffed with detailed guides and tutorials to get you up and running. And if you do have any trouble, 24/7 live chat support is on hand to answer your questions. It really works, too – we got a helpful response from a knowledgeable support agent within a couple of minutes of posting our question.
The good news continues elsewhere, with ExpressVPN delivering in almost every area. Bitcoin payments? Of course. P2P support? Yep. Netflix unblocking? Naturally. Industrial-strength encryption, kill switch, DNS leak protection, solid and reliable performance and a clear no-logging policy? You've got it.
Downsides? Not many to speak of. The ExpressVPN service supports five simultaneous connections per user (increased recently from three), and it comes with a premium price tag. But if you want a speedy service, crammed with top-notch features, and with all the support you need to help you use them, ExpressVPN will be a great fit. While they don't have a free trial, ExpressVPN has a no-questions-asked 30-day money back guarantee if you aren't happy with the service.

Bijay Pokharel
Bijay Pokharel is the creator and owner of Abijita.com. He is a freelance technology writer focusing on all things pertaining to Cyber Security. The topics he writes about include malware, vulnerabilities, exploits, internet defense, women's safety and privacy, as well as research and innovation in information security. He is a tech enthusiast, keen learner, rational and cool person in his professional activities and challenges.
Related posts