Here's a $159 iPhone X Clone With a Giant Battery
Bijay Pokharel, February 6, 2018
0
2 min

read
The iPhone X knockoffs keep coming. Chinese company Oukitel has unveiled the U18, which features a similar silhouette to Apple's newest phone, complete with a notch. The back of the device looks nothing like Apple's phone, although it does have dual, vertically-stacked cameras. It also includes gesture controls (so congrats to Dan), and face unlocking.
With users continuing to experience bugs, and Apple possibly ceasing production this summer, you may want to find an alternative to the iPhone X. And if you're simply in love with the phone's design, you might be forced to settle for a knockoff, particularly this clone courtesy of Chinese company Oukitel, made aware to us by The Verge.
At first glance, you'll see that the U18 features an overall design rivaling that of Apple's iPhone X, even including the notch at the top of the phone. While the front appears to be quite similar, the back is a different story, although it does have stacked cameras.In addition to gesture controls, a rear fingerprint sensor, and face scanning, the U18 is highlighted by a large 4,000mAh battery. The phone then runs on Android 7.0 and comes with 4GB of RAM and 64GB of storage. The display is 5.85 inches with 720P resolution, while the front camera is 13 megapixels and the back, 16 megapixels and 5 megapixels.The kicker here is that Oukitel's iPhone X clone retails for just $159 USD, in comparison to Apple's starting price of $999 USD.
The phone ships with a large 4,000mAh battery, which is Oukitel's signature spec, as you might remember from last year's K10000 Pro phone, which shipped with a 10,000mAh battery. Here are some other specs, just for fun:
5.85-inch, 21:9 display with 720P resolution
4GB of RAM and 64GB of storage
USB-C
Android 7.0
A rear fingerprint sensor
16-megapixel / 5-megapixel rear dual-camera system
13-megapixel front camera
MediaTek MT6750T processor
Unlike another iPhone notch-knockoff, the Noa N10, Oukitel's device appears to feature customized software that handles the notch somewhat well. It definitely doesn't always look great, though, like here when a user is viewing a webpage: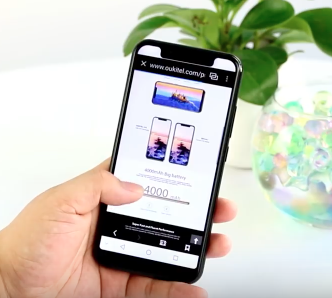 So yes, while users will get the coveted notch, they won't have the best software experience. Even iOS apps are just now getting optimized and updated for the notch. Those apps are not going to come notch-ready to Android.
Source: www.theverge.com)
Bijay Pokharel
Bijay Pokharel is the creator and owner of Abijita.com. He is a freelance technology writer focusing on all things pertaining to Cyber Security. The topics he writes about include malware, vulnerabilities, exploits, internet defense, women's safety and privacy, as well as research and innovation in information security. He is a tech enthusiast, keen learner, rational and cool person in his professional activities and challenges.
Related posts