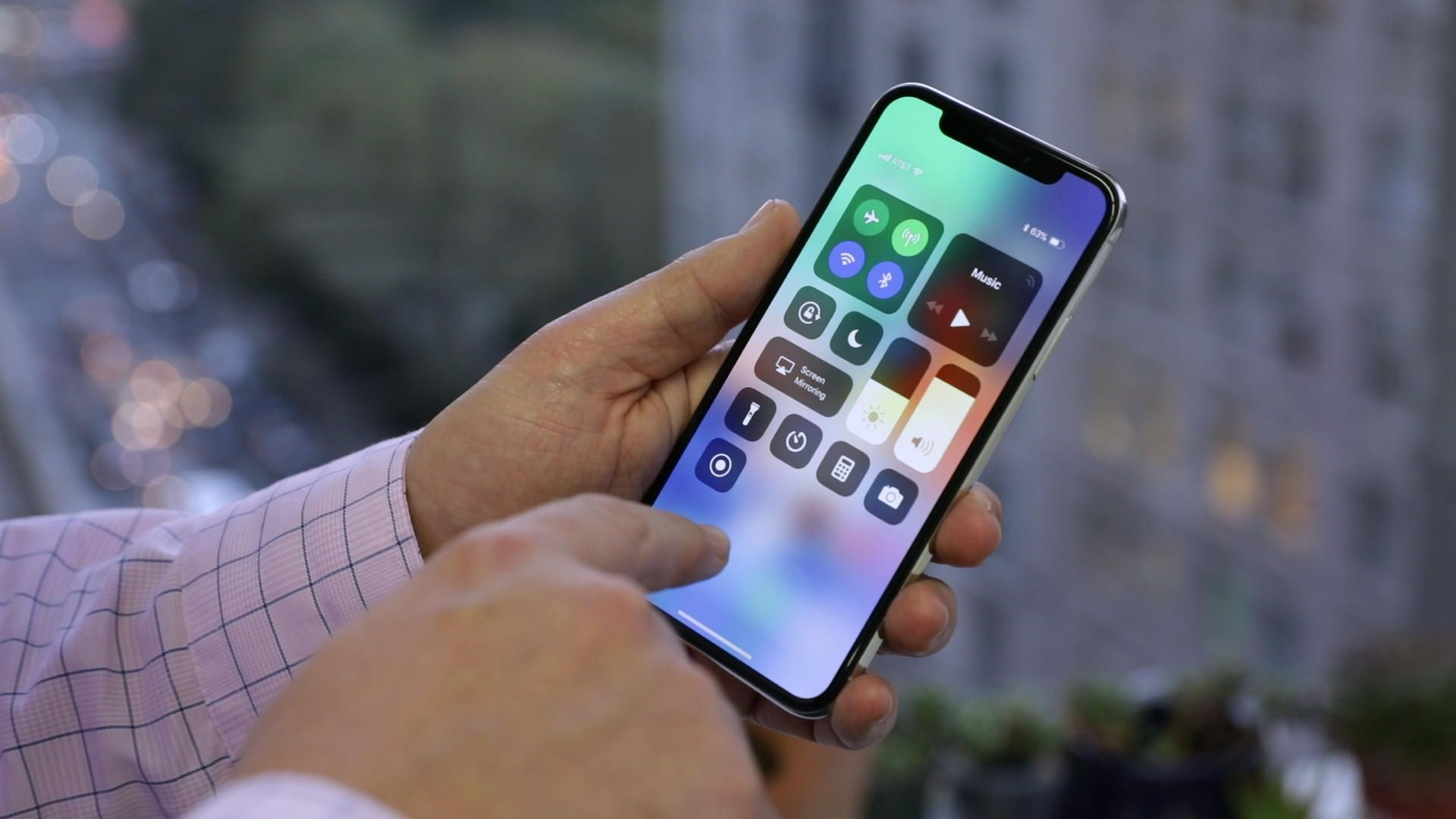 7 Tricks To Free Up Space On Your iPhone
Bijay Pokharel, January 13, 2018
0
4 min

read
When you start running short on space on your iPhone, you can start deleting apps and offloading photos and videos to free up space or you can expand your storage. You can also try to trick your iPhone into freeing up some space. Because no one likes to be forced to delete apps or deal with photo storage, let's look at a few ways you can reclaim some space on your iPhone without taking such drastic measures.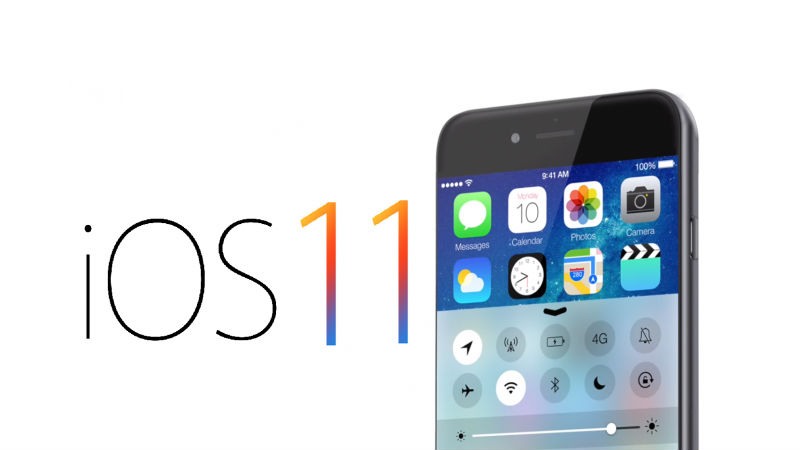 Stop storing texts forever
By default, your iPhone stores all of the text messages you send and receive… forever. This is convenient if you need to look up a 15-month-old conversation; not so convenient if you need that storage space back. To stop your phone from saving texts forever, open up the Settings app and tap Messages. Scroll down until you find Message History and tap Keep Messages. Change Forever to 30 Days or 1 Year. A pop-up will ask you if you want to delete older messages; tap Delete to proceed.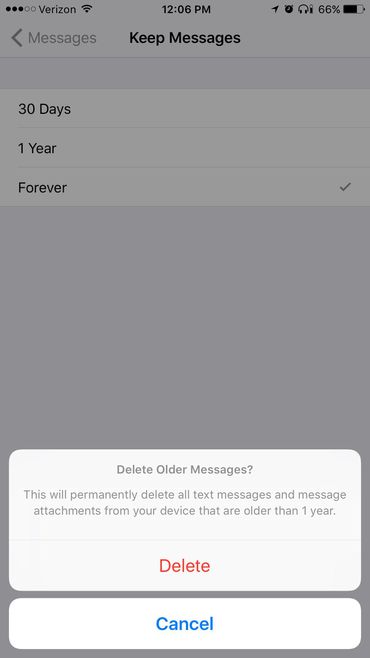 Don't double-save photos
If you use your iPhone's HDR mode or Instagram a lot, you've probably noticed that your phone automatically saves two photos: the HDR version and the normal version (or, in the case of Instagram, the filtered, cropped Instagram version and the normal version).
To stop double-saving HDR photos, open the Settings app and go to Photos & Camera. Scroll down to the bottom and untick the toggle next to Keep Normal Photo. If you have an iPhone 7 Plus, you'll see a similar toggle for Portrait mode that you can also disable. To stop double-saving Instagram photos, open the Instagram app, tap your profile tab and then tap the Settings (gear) icon in the upper right corner. Under Settings, untick the toggle next to Save Original Photos.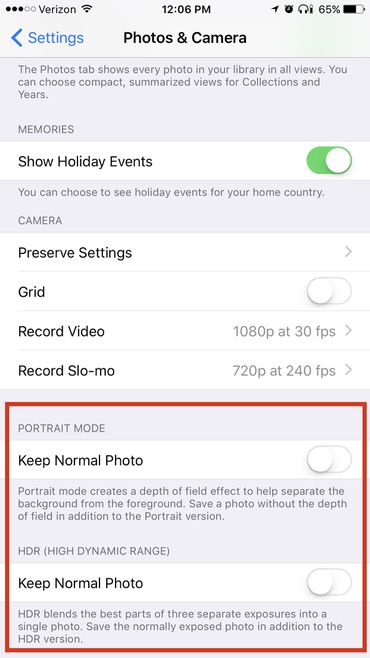 Stop the Photo Stream
The photos in your Photo Stream take up space — though not as much as original photos, because they're uploaded to your device at a "device-optimized resolution," according to Apple. You probably don't need these photos, since they're probably just duplicates of photos that are already on your device.
To turn Photo Stream off, open the Settings app and go to Photos & Camera and toggle off Upload to My Photo Stream. The photos in your Photo Stream will be deleted from your iPhone, but they will remain on any other devices (such as your iPad or computer) for which you have Photo Stream turned on. They'll also remain on your iCloud account for 30 days from the date they were uploaded.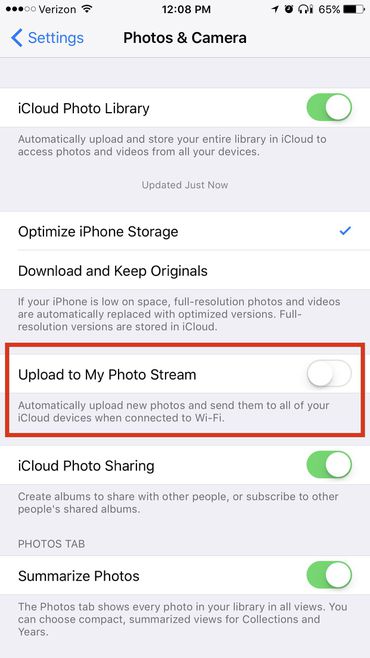 Clear your browser cache
If you use Safari all the time, your iPhone may be storing web history and data that you simply do not need. To clear Safari's browser cache, open up the Settings app and tap Safari. Scroll down and click Clear History and Website Data.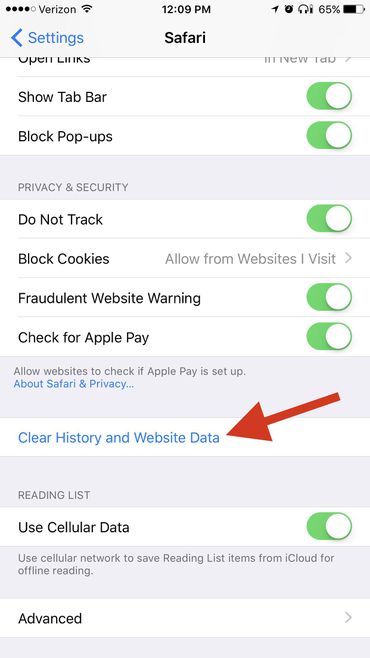 If you use Chrome instead of Safari, open up the Chrome app and tap the triple-dot button in the top right. Next, tap History and at the bottom of the screen tap Clear Browsing Data.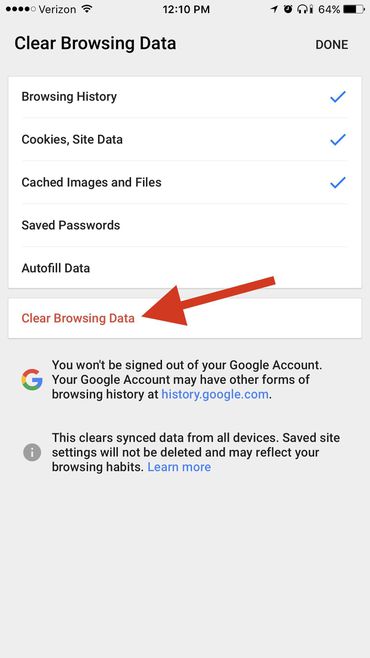 Delete downloaded music
Those playlists and albums you downloaded to rock out on the subway can start to add up. If you use Apple Music, it's easy to find your downloaded songs to delete them. Go to Settings > General > Storage & iCloud Usage > Manage Storage and find Apple Music on the list. You can swipe to delete individual songs or you can swipe on All Songs at the top to delete all.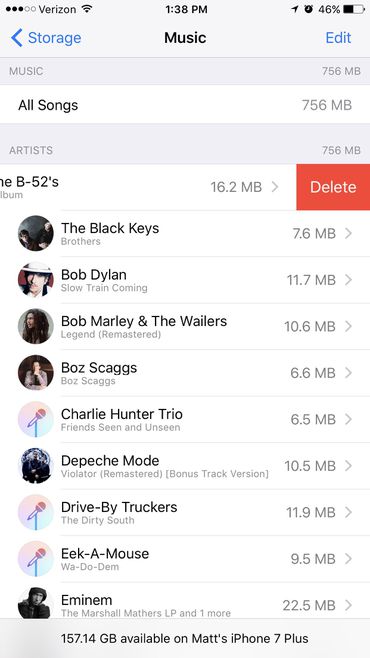 Spotify makes it a little harder to track down your downloads. You will need to open the app, tap Your Library and then choose to view by Album or Playlist. Swipe down to reveal the Filter option and add the Downloads filter, which shows only the albums or playlists you have downloaded. Then open any albums or playlists listed and tap to turn off the toggle switch for Downloaded.
Delete downloaded podcasts
Similar to music, you might also have a number of podcasts downloaded to your iPhone. Unlike music, it's doubtful you'll return to a podcast for repeated listening. If you use the stock Podcasts app, it's easy to delete your downloads. Head back to Settings > General > Storage & iCloud Usage > Manage Storage and tap Podcasts. There's no way to delete all at once, so you'll need to go down the list, swiping to delete the podcasts for each show.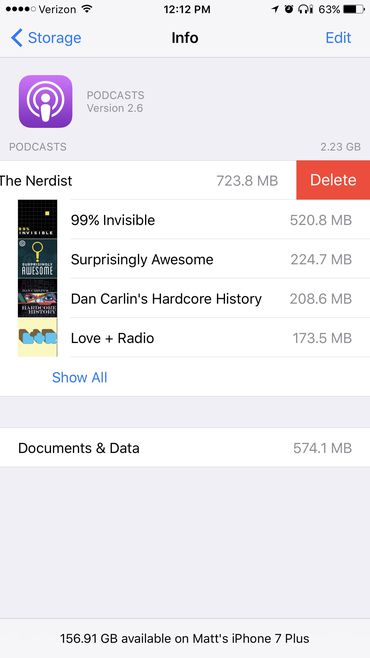 Delete your reading list
Safari's offline reading list can take up unnecessary space saving web pages for you to read when you have no internet connection. To clear Safari's offline reading list, open up the Settings app and go to General > Storage & iCloud Usage. Under Storage, tap Manage Storage > Safari. Swipe left over the words Offline Reading List and tap Delete to clear the cache. Doing this will not delete individual items from your reading list: To do that, open the Safari app, go to your Reading List and swipe left over items you want to delete.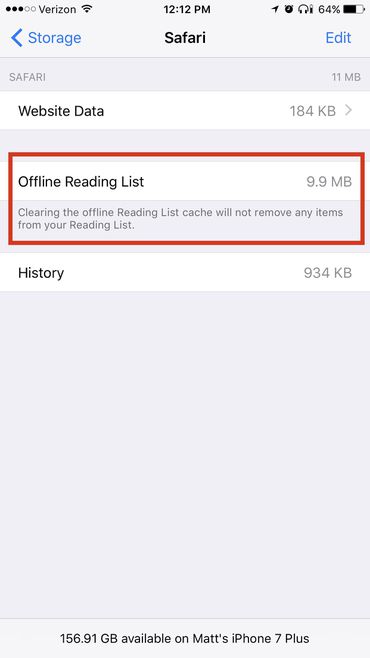 Reference : Gadgethacks.com
Bijay Pokharel
Bijay Pokharel is the creator and owner of Abijita.com. He is a freelance technology writer focusing on all things pertaining to Cyber Security. The topics he writes about include malware, vulnerabilities, exploits, internet defense, women's safety and privacy, as well as research and innovation in information security. He is a tech enthusiast, keen learner, rational and cool person in his professional activities and challenges.
Related posts