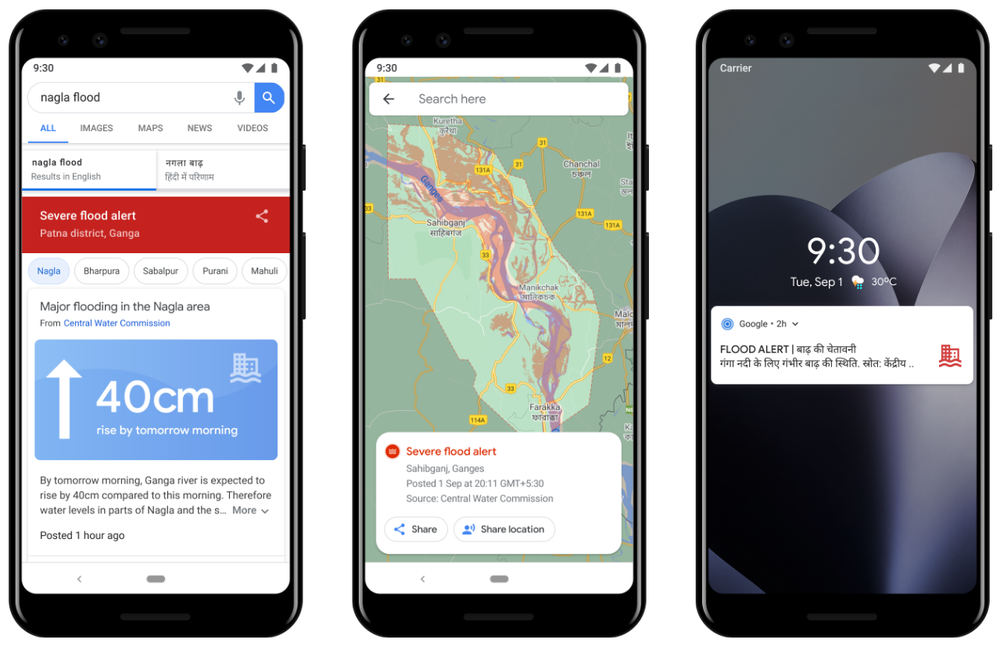 Google's AI Flood Warnings Is Now Expanded To Bangladesh
Bijay Pokharel, September 2, 2020
0
2 min

read
For several years, the Google Flood Forecasting Initiative has been working with governments to develop systems that predict when and where flooding will occur—and keep people safe and informed. 
The search giant launched the tool in 2018 for India's Patna region, but it says it's been slowly increasing coverage in coordination with local government. In June, it hit the milestone of covering all the worst flood-hit areas of India. The company says this means some 200 million people in India and 40 million people in Bangladesh can now receive alerts from its flood forecasting system.
"In recent months, we've been expanding our forecasting models and services in partnership with the Indian Central Water Commission. In June, just in time for the monsoon season, we reached an important milestone: our systems now extend to the whole of India, with Google technology being used to improve the targeting of every alert the government sends. This means we can help better protect more than 200 million people across more than 250,000 square kilometers—more than 20 times our coverage last year. To date, we've sent out around 30 million notifications to people in flood-affected areas. 
In addition to expanding in India, we've partnered with the Bangladesh Water Development Board to bring our warnings and services to Bangladesh, which experiences more flooding than any other country in the world. We currently cover more than 40 million people in Bangladesh, and we're working to extend this to the whole country. " Yossi Matias, VP Engineering & Crisis Response Lead wrote in a blog post.
Google has long been interested in providing warnings about natural disasters and national emergencies like floods, wildfires, and earthquakes. Many of these are handled through its Public Alerts program. Just last month, the company launched a new service that turns Android devices into a network of seismometers, leveraging the accelerometers inside phones and tablets to detect the vibrations from earthquakes and send alerts to users.
Bijay Pokharel
Bijay Pokharel is the creator and owner of Abijita.com. He is a freelance technology writer focusing on all things pertaining to Cyber Security. The topics he writes about include malware, vulnerabilities, exploits, internet defense, women's safety and privacy, as well as research and innovation in information security. He is a tech enthusiast, keen learner, rational and cool person in his professional activities and challenges.
Related posts